I scrounge electronic parts from dead things all the time.  I've collected about 20 18650 cells in the last few years from drill battery packs and laptop batteries.  I've made a few 7.2v packs for my RC car, but I hesitate to do much with the rest until I find out the capacity of each cell.  I've also been wanting to play with a MOSFET and my DigiSpark.  So I built this capacity tester.  It basically connects the 18650 to a load (a hot water heating element, about 10Ohms of resistance).  The DigiSpark monitors the voltage of the battery using an analogRead call on pin p2.  It keeps the relay closed (via the MOSFET) until the battery voltage drops below a preset voltage (3.1v is what I'm checking for, but some people say it can go as low as 2.7 v without damage).  Once the voltage drops below the preset value, the relay opens, and a variable is set so that the digispark won't try to re-engage the relay until it is reset.
I used Deans connectors to connect the 18650 holder I made with the circuit.  This allows me to easily swap in other batteries with a Deans connector once I add a voltage divider so higher voltages can be read.  If you haven't seen deans connectors before, you may want to check them out.  The knock offs are cheap, and they work really well.  Some people have difficulty soldering them, and I had a problem for my first 10 pairs or so, but now, it's a piece of cake.
Although it looks like a jumble of wires, all the connections are soldered and covered with heat shrink tubing, and it turned out pretty nice.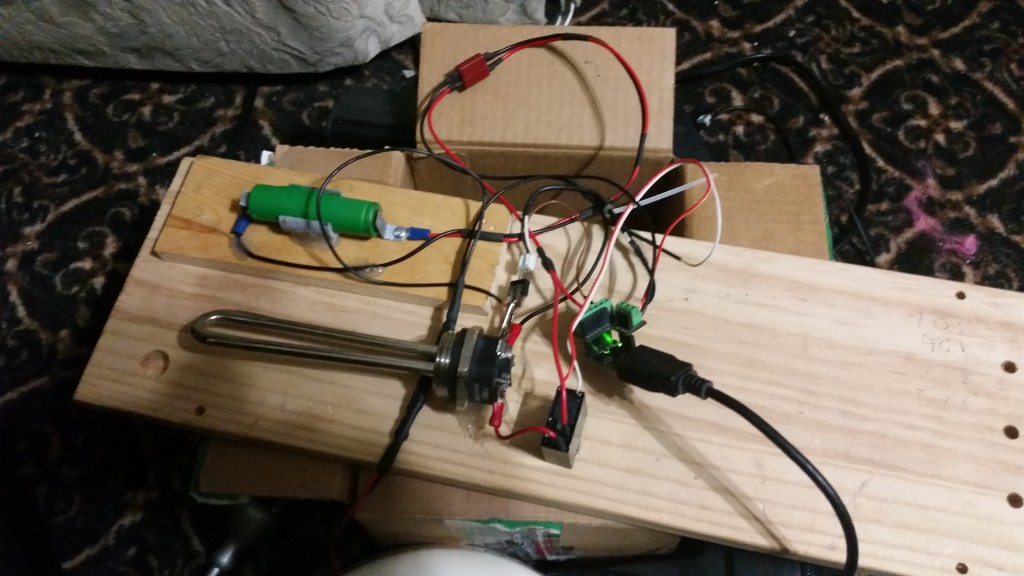 The relay and the clock both get their ground from the MOSFET, so when the digispark opens the relay, the analog clock stops as well, recording how long it took to discharge the battery.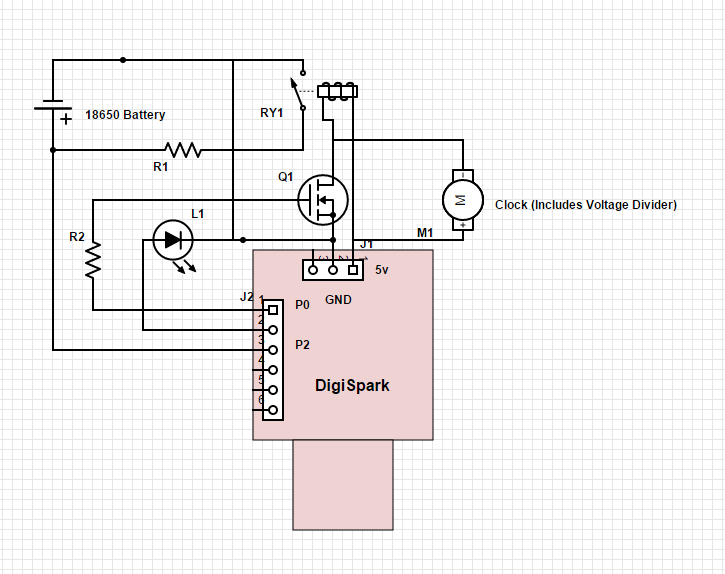 All the while, the Digispark tells me the analogRead value via morse code and the LED.  Thanks to Mark Fickett's arduinomorse library.  To convert the analogRead value to voltage, divided by 2 (5v = 1024, so 205 per volt, if we divide by 2 we get the number of hundredths of a volt).
It's not a perfect system, since the battery voltage drops as it discharges so the current changes over time.  But it works good enough for me to match cells based on approx capacity.
The code is really simple:
#include "morse.h"
#include <math.h>

#define PIN_STATUS 1
#define BATT_LOW_VOLTAGE 3.11 

int sensorValue = 0;
double voltage = 0;
bool stopped = false;
LEDMorseSender morseSender(PIN_STATUS);

void setup() { 
  // initialize the digital pin as an output.
  pinMode(1, OUTPUT); //LED on Model B 
  pinMode(0, OUTPUT); //Relay 
  morseSender.setup(); 
  digitalWrite(0, HIGH); 
}

// the loop routine runs over and over again forever:
void loop() {
  sensorValue = analogRead(1); //P2 
  voltage = (sensorValue * 1.0) / 205.0;
  voltage = round(voltage * 100) / 100.0;
  if(voltage > BATT_LOW_VOLTAGE && !stopped){
    digitalWrite(0, HIGH); 
  } else {
    stopped = true;
    digitalWrite(0, LOW); 
  }
  morseSender.setMessage(sensorValue / 2);
  morseSender.sendBlocking(); 
  delay(2000);
}